This post begins a mini series on the power of God's Word in healing our wounded souls.
When the heart weighs heavy, it begs for relief. The burden of sorrow, grief, and pain is sometimes impossible to bear. Feeling alone and abandoned, the heart sinks into despair.
"I am worn out from groaning; all night long I flood my bed with weeping and drench my couch with tears." Psalm 6:6
My own heart has been in this place many times. Drowning in despair, I have wondered if it was even okay to feel such heavy feelings. Sometimes, I've questioned if God had rejected me because of my dark emotions. And the thought that always lingered, will I ever get out from underneath the weight of sorrow?
Intense emotions can be isolating. We think no one else can understand. Our life seems too messy to share with others. God may seem silent and we wonder if He's left us. We feel stuck in the bottom of a pit and think we'll never be able to climb out.
Our thoughts and emotions whisper lies, keeping us in the pit. The truth is we have not been abandoned or left alone. God promises to never leave us or forsakes us. He knew there would be times when we would be overcome by feelings. He provided a place for us to go, process them, and find the freedom to voice those feelings directly to Him: The Psalms.
The book of Psalms expresses all the range of emotions that humans feel. Calvin described the Psalms as "an anatomy of all the parts of the soul." The book contains Psalms of thanksgiving and praise, where the writer voices his joy in the Lord. There are Psalms that recount God's provision and salvation from enemies. The Psalms also speaks to all the wounded places of the human heart: grief, sorrow, fear, injustice, and guilt. These Psalms are called laments and it is in these Psalms where we find the form and structure for expressing to God our own feelings.
In the Psalms of lament, we find that we are not alone. These overwhelming feelings have been experienced by others before us. The laments also show us that God wants to hear from us. Many of the Psalms were used by the Jews in their corporate worship, even the Psalms of lament. God desires that we come to Him with all our feelings, no matter how painful and intense. Because it is God who is the healer of our souls.
There are more Psalms of lament than any other kind in the book of Psalms. Many are penned by King David, the man after God's own heart. All but two of these laments follow this structure: an expression of the author's feelings, followed by asking for something the author needs, and ending with an affirmation of trust in God.
The laments ask the difficult questions of life such as, "How long?" "Why?" and "When will you answer me?" They also seek specific answers from God including, asking for relief, for healing, for salvation and for rescue. Lastly, they end with an expression of trust in God. They give God praise and thanksgiving for all He has done in the past and all that He will do in the future.
"How long must I wrestle with my thoughts and every day have sorrow in my heart? How long will my enemy triumph over me?" Psalm 13:2
Psalms 44 and 88 are the only two that do not follow this form; they don't end in praise and thanksgiving. Perhaps this is because there are times when our emotions are so overwhelming, we need the Holy Spirit to intercede and express to God for us what is on our heart. "Likewise the Spirit helps us in our weakness. For we do not know what to pray for as we ought, but the Spirit himself intercedes for us with groanings too deep for words" (Romans 8:26).
When sorrows overwhelm the heart, we need to go to God with those burdens. We don't need to clean ourselves up first before coming into God's presence. Jesus already did that for us. Because of Christ, our messy lives and heavy hearts have been covered by grace. We are free to come into the presence of God, clothed in the righteousness of Christ, and pour out our heart at His feet. Asking for healing and grace, we bring to Him all our burdens.
Using the structure of the laments, we can put our feelings into words. Writing them as a prayer to God can be a part of the healing process. But even when words fail us, which sometimes they do, we can trust that He knows what is on our hearts. In faith, we are expectant that He hears us. In hope, we wait for His response. And in love, we trust that His joy will come in the morning.
"But I trust in your unfailing love; my heart rejoices in your salvation. I will sing to the Lord, for he has been good to me." Psalm 13:5-6
Have you ever written a lament to God? How have the Psalms helped you?
Linking with these friends: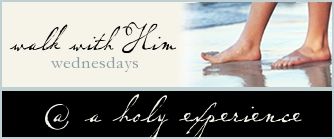 and Intentional.Me