I've had a frequent visitor in my life since adolescence. Sometimes this visitor warns me in advance of his arrival and sometimes he shows up with no notice. It seems like we would be close friends, considering all the time we've spent together. But in recent years, I've realized how nearly everything he says is a lie. These lies are audible only to me for they come from deep in my mind and heart where my visitor, named Depression, comes to stay.
Over and over, throughout the years, I've believed the lies. When faced with obstacles or trials, I hear whispers like, "It's too much, you can't handle it" and "You'll never make it." Other recurring lies have been, "You're not loved or wanted." "No one understands you." "You're ugly and can't do anything right."
These lies can become shouts that reverberate within my soul. And the echo lingers on for days, weeks, months, even years. I could be in the midst of a group of friends who care for me, yet the only thing I hear is the voice of Depression telling me I am not loved or even worthy of love. Every time I give in and believe those lies, the overwhelming feelings of sadness and despair threaten to drown me.
Do you have frequent visitors in your life? Perhaps instead of Depression, they might go by the name of Shame or Anger, Pride or Anxiety. No matter the name, they all bring with them lies that were birthed from the original lie spoken long ago in the Garden. And just like that first lie, the whispers of twisted truth steals joy and brings sorrow and despair.
But God, in His grace, has given us ammunition against the lies. When we use these weapons, we can better fight the battle raging within our own mind and soul.
Before Jesus began his ministry, he was in the desert for forty days. Physically, he was suffering from thirst and hunger. Yet His soul was fed and nourished from the word of His Father. Jesus was able to do what our first parents could not–withstand the lies of the Devil. How did He do it? With each temptation the Deceiver gave, Jesus responded with the very word of God.
In 2 Corinthians, the apostle Paul tells us to take every though captive to make it obedient to Christ (10:5). When I am confronted with a lie, I capture it and speak the word of God to my heart, making the lie powerless. It's the very word of God who created the cosmos and the word of God who declared Jesus as His son on the river Jordan. It is also the word of God that teaches me that while I am more sinful than I ever thought, I am also deeply loved, more than I could ever imagine.
When I hear "It's too much, you can't handle it." I remember these verses: "I can do all things through Him who gives me strength." (Phil. 4:13) "Come to me, all you who are weary and burdened, and I will give you rest. Take my yoke upon you and learn from me, for I am gentle and humble in heart, and you will find rest for your souls. For my yoke is easy and my burden is light." (Matthew 11:28-30)
When I hear "You're not loved or wanted." I remember: "For you created my inmost being; you knit me together in my mother's womb. I praise you because I am fearfully and wonderfully made; your works are wonderful, I know that full well." (Psalm 139:13,14) "But you are a chosen people, a royal priesthood, a holy nation, a people belonging to God, that you may declare the praises of him who called you out of darkness into his wonderful light." (1 Peter 2:9)
When I hear "You should give up, you'll never make it" I remember: "being confident of this, that he who began a good work in you will carry it on to completion until the day of Christ Jesus." (Phil. 1:6)
The classic allegory, Pilgrim's Progress, describes a scene where Christian was held captive in Doubting Castle by the Giant called Despair. Christian had the key of Promise tucked in his shirt and had forgotten about it. But once he remembered that he had it, he opened the doors of his prison and was freed to continue on his journey to the Celestial City. I too sometimes forget that I have the key to freedom from my own captivity to the Giant called Depression. When I embrace God's promises found in His word, the lies of Depression become weak and lose their grip on my heart. My own prison doors open and I am set free.
When visitors like Depression, Shame, Anger, Pride, or Anxiety arrive at the door of your heart carrying luggage filled with lies, remember that you've been given the weapon to defeat them. The book of Hebrews tells us that God's word is sharper than any double-edged sword (4:12). There is no lie that can stand in battle before the word of God and win.
And because Jesus perfectly fulfilled what Adam and Eve could not, we've been set free from our eternal prison. We are no longer hopeless and lost in sin and shame. Jesus' perfect life has been given to us. With that life comes the power of the Holy Spirit who strengthens and empowers us to live for God. Our standing before God is secure; there is no lie that can threaten us. For "if the Son has set you free, you are free indeed." (John 8:36)
"So letting your sinful nature control your mind leads to death. But letting the Spirit control your mind leads to life and peace." Romans 8:6
Linking up with: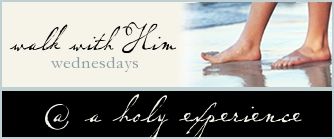 and Intentional.Me
Updated from the archives