The sound of rain pattered on our tin roof. Soft at first, but soon the drops were falling fast, sounding like knuckles rapping on the front door. Then came the low rumbling of thunder. My almost five-year old ran over to me.
"Mom, is there going to be a tornado?"
"It's just a thunderstorm."
"Does thunder come with a tornado?" he asked.
"Yes, it does."
The windows began to shake with each boom of the thunder. Rain poured down even harder.
"Mom, what would we do if there was a tornado? Would we leave?"
My son's eyes grew wider with each boom and rattle of the glass door next to where he stood. His face was pale, eyes wide, and skin pulled back tight. He paced around the room, looked outside at the storm and then came back around to me.
"Mom, how do you know when it's a tornado?"
I explained about emergency warning notifications on the tv and told him that if a tornado was nearby, we would be warned. I then checked the weather on the computer. "It's just a thunderstorm. That's all."
He laid down in bed, we snuggled, had our story time and prayed, all to the background sounds of rain, thunder and the wind beating against the windows. I promised him I would return to snuggle with him more after helping his brother get ready for bed.
I know fear well. We've been the best of friends for many years. Together, we've experienced much of life together including new changes, transitions, challenges, plans, goals, and trials. I've longed to rid myself of fear but each time I've told it to leave, I back down and give in. Perhaps I've become too comfortable with fear and don't know what I would do without it. Maybe it gives me a false sense of control over my circumstances. It may also be that it's easier to live with fear than walk by faith into the unknown.
When I think of life's storms, I think of Jesus calming the squall while on a boat with the disciples. Tired from a day of teaching, He had fallen asleep on the stern. A furious storm rose up and began to overtake the boat. It was such a violent storm that even the experienced fishermen on board thought they would drown. They rushed to Jesus, woke him up, and ask him why he didn't care enough to help them.
Oh, but isn't that me? I try to manage my own trials, insisting I know what I am doing. When the fear consumes me, I finally go to the Father and ask for help. But even then, there's accusation in my tone. "Why are you letting this happen to me?" "Why didn't you protect me?" "Do you not care?"
After calming the wind and the sea with a simple command, Jesus' response to them was, "Why are you so afraid? Do you still have no faith?" (Mark 4:40)
It's lack of faith that creates fear in the face of the storms of life. I despair and think that He has abandoned me. I doubt His love and promises. Yet, since He faced my ultimate storm at the cross so I did not have to, why would I think He would abandon me and leave me all alone to face my little storms? Despite my imperfect faith, my doubt, and my fear, He gives grace. He reminds me that there is no storm left in my life that will sink me, He's taken care of that. His promise stands, He will never leave me, nor forsake me.
The storm raged on at our house. I heard the windows rattle so hard, I feared they would shatter. Thinking perhaps I was wrong about the storm, I checked the news again. But it remained just a typical Florida style thunderstorm. Shortly thereafter, I went in to check on my son, certain he was waiting for me, curled up under the covers, trembling with fear.
I found him sound asleep.
The next morning, I said, "Ian, did you see that the storm went away?" He shrugged and said, "Yeah." And then he ran off to play.
I once heard the quote (by whom, unfortunately I can't remember), "If you don't have to fear God, you have nothing left to fear." When our heart is so gripped by love and faith in our Savior because He took on our ultimate storm for us, there is nothing left to fear. We can face anything with confidence because we know we are completely loved. And though storm clouds linger in this life, we know that one day He will return and still all the storms forever.
"I will lie down and sleep in peace, for you alone, O LORD, make me dwell in safety." Psalm 4:8
"You will keep in perfect peace him whose mind is steadfast, because he trusts in you." Isaiah 26:3
Linking up with: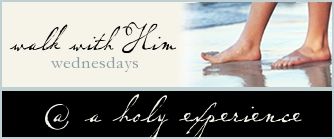 and Intentional.Me