One of my earliest memories is from when I was four years old. I was playing in the backyard and heard a loud crash. I ran to the front and saw that my mother had backed the car over my tricycle. I remember her pausing just long enough to make sure it was moved out the way before speeding off down the road. I was too young to understand what or why it had happened. I remember being upset, shocked and confused. As I got older, I learned that my uncle was in crisis and my mother needed to take him to the hospital.
As I get older, the more my memories of the past come to the forefront of my mind. Some of those memories are good and others are painful to recall. Can the same grace that redeems me from my sin also redeem my memories? Is it possible to go back to the past and see things differently?
Sometimes, things seem so much bigger when you are a child. Revisiting a favorite park or place of play that seemed so huge and spacious as a child, as an adult now seems quite small. The slide is actually shorter than you remember, the road you lived on, not so wide, and walk to school, not so far.
My memory of my uncle remains in my mind as an image of a large, vociferous man, with a broad smile and perpetually reeking of smoke. He's a part of many of my memories because he lived with us off and on throughout my childhood. Suffering from mental illness and a low IQ, he struggled to live on his own. As I got older, I realized just how sick he really was. He had tried to end his life twice while in our home. As an adolescent, I remember talking him through his delusions and paranoia, attempting to calm him down. When I was an adult, I visited him in a group home with my first child and realized he wasn't as big in reality as he was in my memory. As an adult, I saw him for the confused, simply minded, and mentally ill person he actually was.
As a writer, I spend a lot of time editing my words. I look back over what I've written and fix spelling errors, cut out sentences, and sometimes change the article all together. Whatever I don't like or doesn't sound right gets removed.
I've often wished I could do that with my life.
I would like to edit my childhood, removing the anger, rage, stress, and dysfunction from my family's story. I would like to take away the rampant history of depression, anxiety, and other mental illness from my immediate and extended family. I'd like to change choices I've made, things I've said, and places I've been.
But I'm not the editor or the author of my life. God is. He's written my story this way for a reason and for His glory. He has used all the dark parts of my childhood to bring me to Himself and to show me my need for Him. God has written me into His story of redemption where I have joined an assembly of other broken, sinful people.
As He changes me, I am able to look back into my memories and see them from another perspective. I see the dark, painful, and difficult experiences differently now. Not just because time has passed. Not because the pain has lessened. And not because my memories are distorted in some way.
God is in the business of redeeming and He can even redeem my memories. He's showing me things I hadn't seen before. Like Dickens' ghost of Christmas past, I can see parts of the story I simply wasn't aware of.
Most of my childhood, we lived in a simple townhouse outside our nation's capital. Partly to pay the bills, but maybe more so for ministry, my parents rented out a room in our small house. The renters who lived with us were not average people who kept to themselves. Instead, they were all wounded people who struggled with life and their own demons. In addition to my uncle, another woman with bipolar disorder lived with us. On another occasion, an alcoholic lived with us. I also remember a single mom with a young child. Then there was the friend of the family who was delusional as well as a chronic a liar and a thief.
Most of my life I've looked back on those years in disbelief. It was chaotic and not a good environment to raise young children. It was confusing, disruptive and sometimes frightening. For many years, I had an almost nightly nightmare that never went away until I moved away from home.
In recent years, I look back on these experiences and see my parents efforts at trying to help the lost and lonely. I see them reaching out to the marginalized, just as our Savior did. And they still do the same thing today.
I also see those years as preparing me for the journey into the field of psychology. Some days I regret pursuing training in mental health and wish I had gone into journalism or literature instead. But God had a story written for me, one that included me developing an empathy and understanding of the weak and helpless.
My memories are still there, the good, the bad and the ugly. But God has given me grace to see them at a different angle, through the lens of the gospel of grace. I can see His hand at work through all of it and know that "He works all things for good."
While we can't go back and edit the dark parts of our life, we can allow God to work through our memories. Ask Him to show you how He was always there, how He never stepped away from your story, and how He always was in control. Ask for grace to see your life the way He sees it: broken yet made whole, wounded yet healed, and lost yet redeemed.
Linking up with: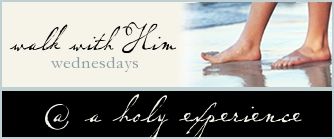 And Word Filled Wednesday and Intentional.Me