I remember the first time I heard it. I was fifteen and it had been mere months since my grandmother had died unexpectedly.  He had called to catch up.  I don't remember the details of our conversation, though I probably talked about school and my part-time job.  We finished talking and before I hung up the phone I heard him say in his deep baritone, "I love you."
I had never heard those words before from anyone in my family.  My grandfather, the WWII veteran and retired police officer from our nation's capital, had always seemed fearless, strong and invincible in my youthful eyes.  Yet the sudden loss of my grandmother changed him, humbled him, and softened him.  When he spoke those words to me that day on the phone, I didn't know what to say.  Like my grandmother's death, those words were sudden and emotionally shocking. Yet unlike her death, they planted seeds of hope in my hurting and frail heart.
As the years went by, we all learned to say those words. Not a day has passed in my children's life that I have not spoken those words to them.
I recently wrote a post about Wess Stafford's new book, Just a Minute.  Since that post, I received my own copy to read and review. Compassion International's president has traveled the world many times over and in doing so, has heard many stories about the power of words in a child's life.  This book compiles about sixty stories of the lasting impact that words of affirmation make in a person's life.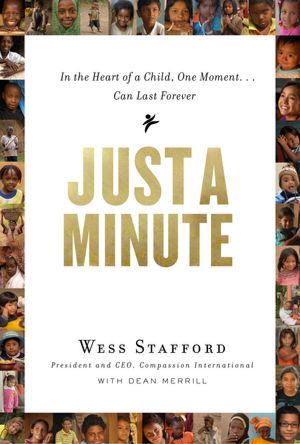 The book includes stories about children in the Compassion program as well as stories of famous people, both present and past. Some are hope filled and reveal the power of encouraging words.  Some are stories of tragedy, like that of a young Hitler.  Wess Stafford encourages us to be intentional with the children in our lives and take advantage of each moment with them.  Taking just a minute to speak affirming and truthful words to their heart can impact them for years to come. We ought to do this with any child we meet or have contact with, not just our own children.
These affirming words aren't just praises like "good job," rather they are meaningful words that speak to the heart of what God thinks of them and what he is doing in their lives. It's encouraging them in the gifts and skills he's given them. It's also showing unconditional love and a genuine interest in their lives.
This book struck me deeply, especially as I reflected on the missing positive affirmations from my own childhood.  There were moments of grief as I experienced again the painful messages I had learned instead. Yet this book also has challenged me to be more proactive in using each moment with a child to speak blessing to their hearts.  I've also been more intentional in our letters to our Compassion child to speak words of affirmation to his heart.  Instead of merely sharing with him our daily lives, I've begun to share with him our specific prayers for him, how we see God working in him and how God is preparing him for a great future.
"You, even for a moment, are part of a tapestry of people engaged in the life of any child with whom you have a minute. Others may have hurt them deeply. Some may have neglected them, sending a "you don't matter" message deep into their spirit. We don't have to know all the dynamics that bring us to the present moment. But we must all be faithful to play our part when the moment presents itself.(p.122)"
What can you do with just a minutes time to speak hope into the heart of a child?
Disclaimer: I received this book for free from Compassion International for this review.  The words and opinions are my own.