"Mommy, what's the matter?"
He can sense it. The tension and worry that so saturates my heart, it oozes from my pores. "I just have so much on my mind. I forgot something, that's all." I replied.
But that's not all. I say it like it's not a big deal. But from the mouth of a child, his question reminds me that I shouldn't feel this way. This burden I'm carrying on my shoulders seems to get heavier with each new day. Lately, my to-do lists have to-do lists.
Why all this tension?
With a hectic, busy life, full of responsibilities, I'm afraid I'll forget something. I'm afraid that I'll neglect something crucial and important. I worry that if I don't do it, no one else will. So I try to keep everything under my control. I'm constantly reminding myself of what I have to do.  "I can't forget this…" "I better do that first thing tomorrow." "It would be bad if I didn't do this…"
Yet I am fooling myself.  I'm not in control of anything. I could write a thousand to-do lists and it wouldn't matter. Because God is in control and not me. I've been bitten by a serpent shaped lie that says I can orchestrate all the details of my life. The lie then produces fear when reality crashes in that I can't do it at all.
Because rather than being in control of all that I fear–fear has instead gotten control of me.
How do I ever break free?
All He asks is that I simply look and believe. To look away from myself and to the Crucified Lord. Just as the Israelites looked at the bronze serpent to receive healing from their own serpent shaped wounds, I must look and believe in the One who heals. "For this is the will of my Father, that everyone who looks on the Son and believes in him should have eternal life" (John 6:40)
Look. Seek. Be still and know. Believe.
I haven't seen because I've only been looking at myself.  I haven't sought because I'm to busy writing and re-writing my to-do list. I haven't been still because my mind is racing a million miles a minute. And I haven't believed that He could handle all my stress, worries and cares.
When I do stop and look, I see Him.  He is waiting. Like the Father of the Prodigal Son, He has been watching for my arrival.  He's ready to give me the peace for which my heart longs. He sees me coming from a distance and before I can say more than a simple "I'm sorry," He brings me to the table where a feast has been prepared.
I sit at the table and look at the bountiful harvest spread before me. I eat and savor the words of truth. And I rest. He takes the burden from my shoulders and tells me He's got it all covered. The wounds from the serpent's bite are instantly healed.
Faith in the gospel isn't just for new converts. It's also for those who have followed Christ for many years. We forget and we stumble but the cross is still there to remind us of His grace. Remembering the gospel frees us from the burdens that weigh us down. It pulls us from inward focus on ourselves and our efforts to make life work and back to the One who already accomplished it all. When Jesus spoke the words, "It is finished" He shut the door on our efforts to control our life and all our striving to get everything right. And He opened the door to freedom, to grace, to rest, and to peace.
A forever Sabbath rest from trying to be perfect and control all the unknown events of our lives. A forever freedom because Jesus has already taken all our burdens.
He died for each of those times when I tried to keep my life under control.  I can't be perfect, but He was perfect for me. He only asks that I look at the cross and believe.
"You keep him in perfect peace, whose mind is stayed on you." Isaiah 26:3
"What is needed for happy effectual service is simply to put your work into the Lord's hand, and leave it there. Do not take it to Him in prayer, saying, "Lord, guide me, Lord, give me wisdom, Lord, arrange for me," and then arise from your knees, and take the burden all back, and try to guide and arrange for yourself. Leave it with the Lord, and remember that what you trust to Him you must not worry over nor feel anxious about. Trust and worry cannot go together." Hannah Whitall Smith

updated from the archives
Linking with these friends: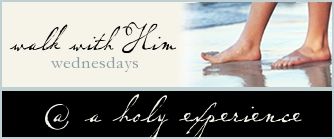 and Intentional.Me