It's summer and time to relax, slow down, and enjoy time with family. The kids stay up later and spend their days swimming and playing with friends. The alarm clock doesn't have to be set and the school books can stay on the shelves.
I love the change in schedule that comes with the hot summer sun. Our family is headed out for three weeks of vacation. While vacations usually mean a break from the usual routine, responsibilities, and busyness, there is one thing from which I never take a break:
Reading
Reading feeds my soul, pierces my heart, and stretches my faith. I discover things about myself I wouldn't have otherwise. It takes me on adventures farther away than any vacation could do. And it connects me to my Creator in deeper and more intimate ways.
"You can never get a cup of tea large enough or a book long enough to suit me."  C.S. Lewis

"Read one thinker and you become a clone. Read two and you become confused. Read a hundred and you start to become wise." Tim Keller
This summer, as I head out on vacation, I'm taking a few books with me. And instead of tea, I'll be drinking black coffee from my french press. Here's what I have packed in my suitcase:
The Pressure's Off: Breaking Free from Rules and Performance
: I love this book! I am reading this with my discipleship group. We are being set free from the pressure to follow the religious formula that says if you do this ____, God will bless you. Instead, we are learning to seek God and find our blessing in Him alone.
Abba's Child: The Cry of the Heart for Intimate Belonging
: No one has spoke so deeply into my heart as Brennan Manning. I am a ragamuffin saved by grace. I am expecting great things from this book and look forward to exploring my relationship with God as my Abba through this book.
The Meaning of Marriage: Facing the Complexities of Commitment with the Wisdom of God
: The way marriage is viewed in the world and the way it is viewed in the Bible are very different. I am excited that I will be hearing Tim Keller and his wife speak about this book at the Gospel Coalition's Women's Conference in a couple of weeks.
Kisses from Katie: A Story of Relentless Love and Redemption
: I've heard only great things about this book. It's the story of a girl who defied expectations, leaving everything safe and familiar to serve the least of these.
And on my Kindle:
One Year to a Writing Life: Twelve Lessons to Deepen Every Writer's Art and Craft
: I'm excited to use this book to inspire and stretch me in my writing. It contains writing prompts, exercises, and inspiration for all writers.
What are you reading this summer?
Counting Gifts #1577-1598:
New books and a new journal
Boys huddled around the docking station, listening to the book of Exodus being read aloud from my phone
imaginations let loose for the summer–car ramps set up in the living room and under the dining table
an encouraging and unexpected email
packing for three weeks of vacation!
boys enjoying sports camp all week
finishing a writing project–I think:)
preparing for SheSpeaks by attending a helpful and encouraging conference call
getting unexpected positive feedback on my book proposal
play dates!
a back up mini french press for when I break my big french press–which I always do
help and encouragement from a sweet blogging friend
Psalm 27
dvd players arriving just in time for our long trip in the car
raining afternoons playing Connect 4, Sequence, and Build a Robot game
that nothing is impossible for God
that if He calls us to a task, He will ensure its completion
a visit with my grandfather on the way out of Florida
a long drive in the car with hours to read, think, write, and think
leaving hot and humid S. Florida and arriving to a raining yet cool 75 in Atlanta
time away with my family
What's on your list this week?
Linking up with: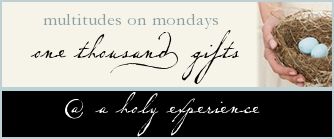 and at Sarah Mae's.